Hybrid Active Noise Cancellation
Adopting the Hybrid Active Noise Cancellation Technology, the inward-facing and outward-facing microphones detect the out-of-ear and in-ear residual noise, and then the dynamic drivers generate accurate anti-noise signals. Achieving up to 40 dB noise cancelling effect, HUAWEI FreeBuds Pro allows you to experience the tranquility and purity.
Intelligent Dynamic ANC
Recognizing the ambient sounds intelligently, HUAWEI FreeBuds Pro switches the noise cancellation mode accordingly for a more suitable hearing experience.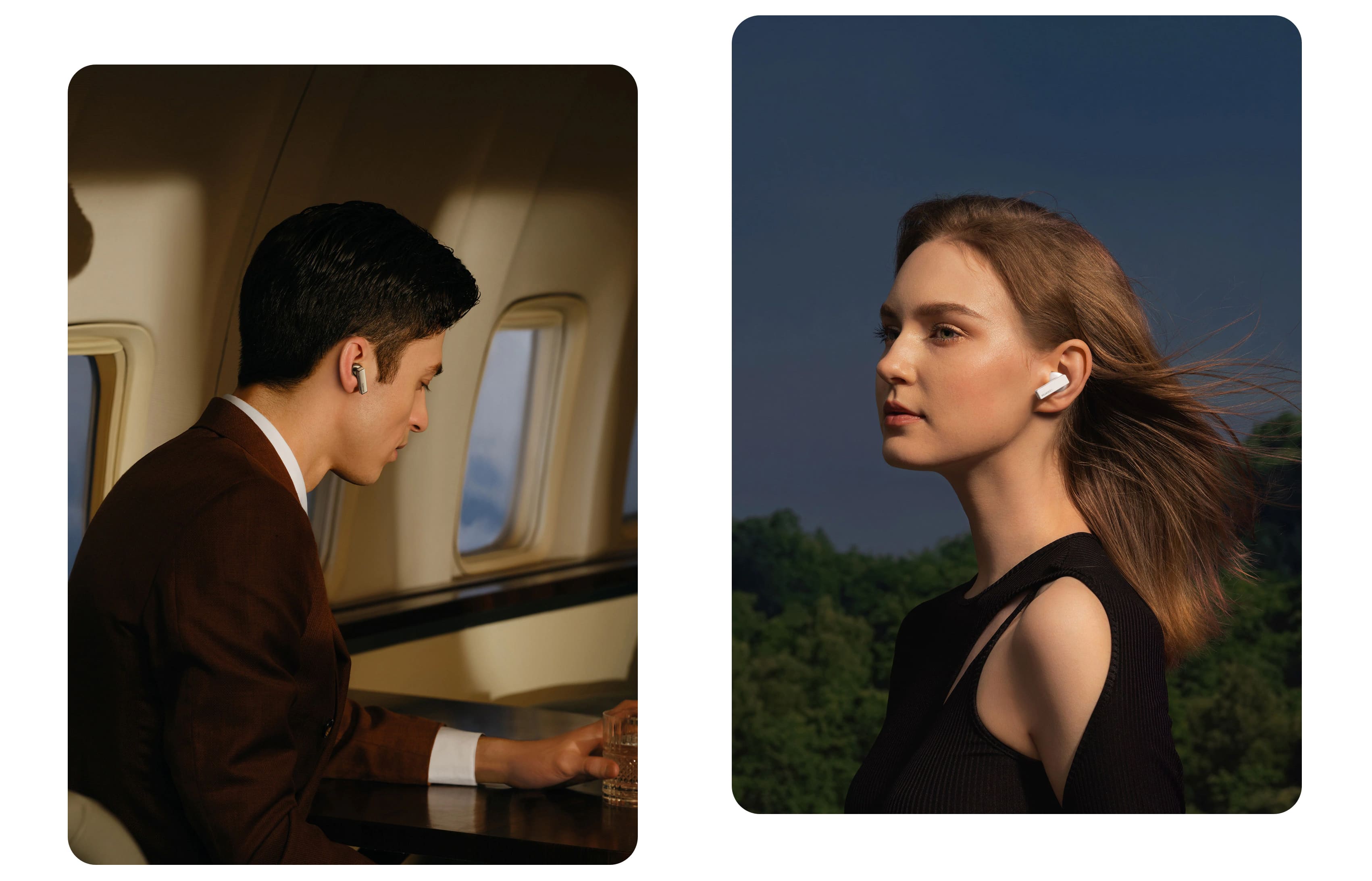 Voice Mode
No need to take off your earbuds. Just a long press, you can switch to awareness mode and reconnect with your surroundings. The unique Voice Mode reduces the ambient sounds to make human voices stand out. So you don't miss the airport broadcasts or a quick chat with friends passing-by.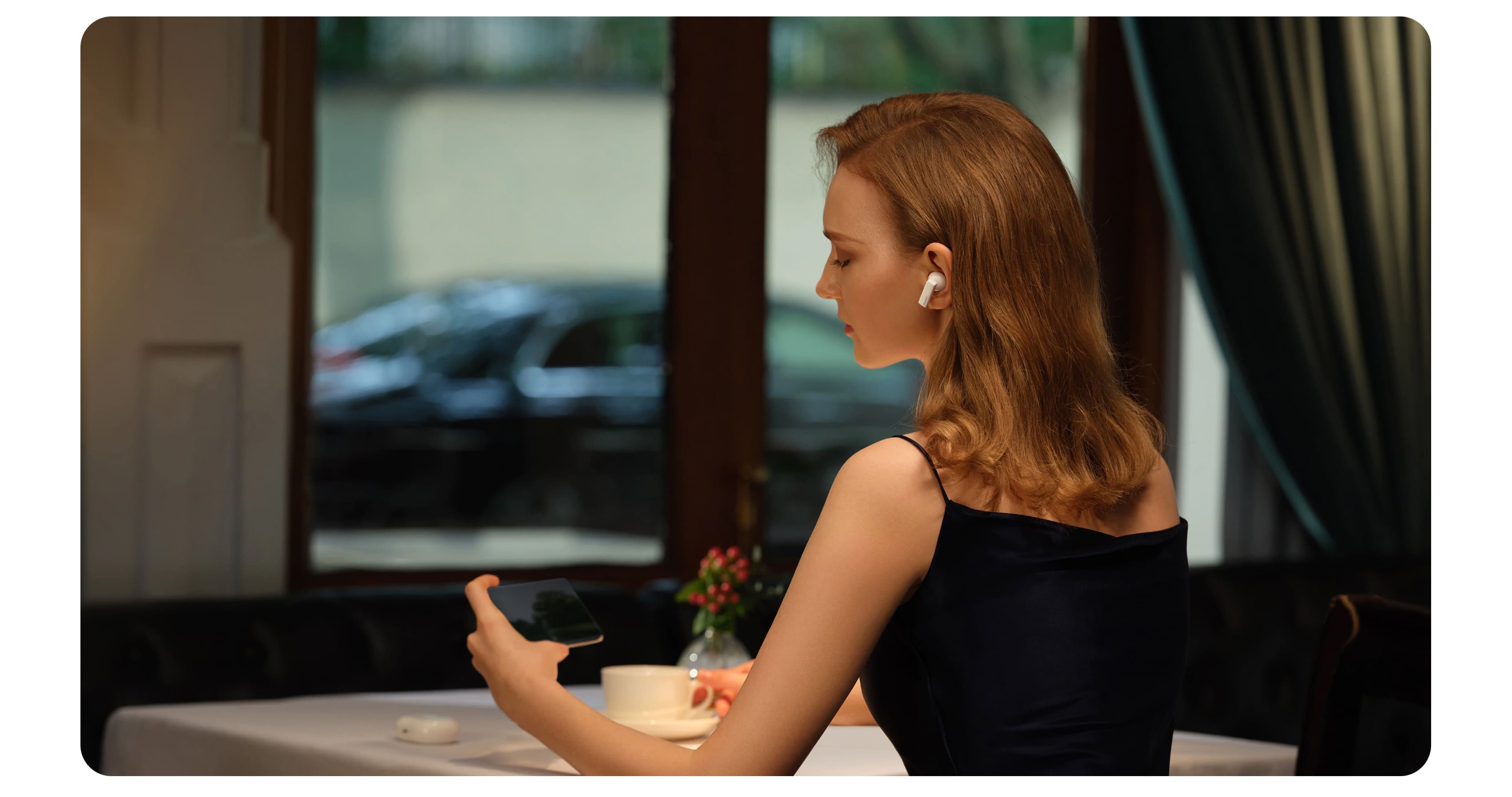 Astonishing Sound in Every Moment
HUAWEI FreeBuds Pro delivers powerful and dynamic sound so you can enjoy the authentic music like you are in a concert.
Noise Out, Voice Heard
The new Hybrid Call Noise Cancellation combines a 3-mic system and the bone voice sensor to reduce background noises and enhance human voices for crystal clear calls.
Feel the Breeze, Not the Noise
The earbuds' delicate windproof structure and fluid mechanical design eliminate any whistling sound caused by air friction. Feel free to enjoy the breeze when walking, running and cycling.
Dual-Antenna, Seamless Connection
Featuring a dual-antenna design, HUAWEI FreeBuds Pro provides a wide signal coverage. Even if your phone is in your bag, pocket or interruptive area, your HUAWEI FreeBuds Pro still offers stable connection.

Wireless High-quality Recording
When taking videos, feel free to go further for a broader view. With HUAWEI FreeBuds Pro's high-quality recording, the distance won't spoil the sound pick-up, as it covers a frequency range up to 20 Hz with stable transmission. Everything you can hear in the real world is authentically reproduced, making it the ideal gadget for enthusiastic vloggers.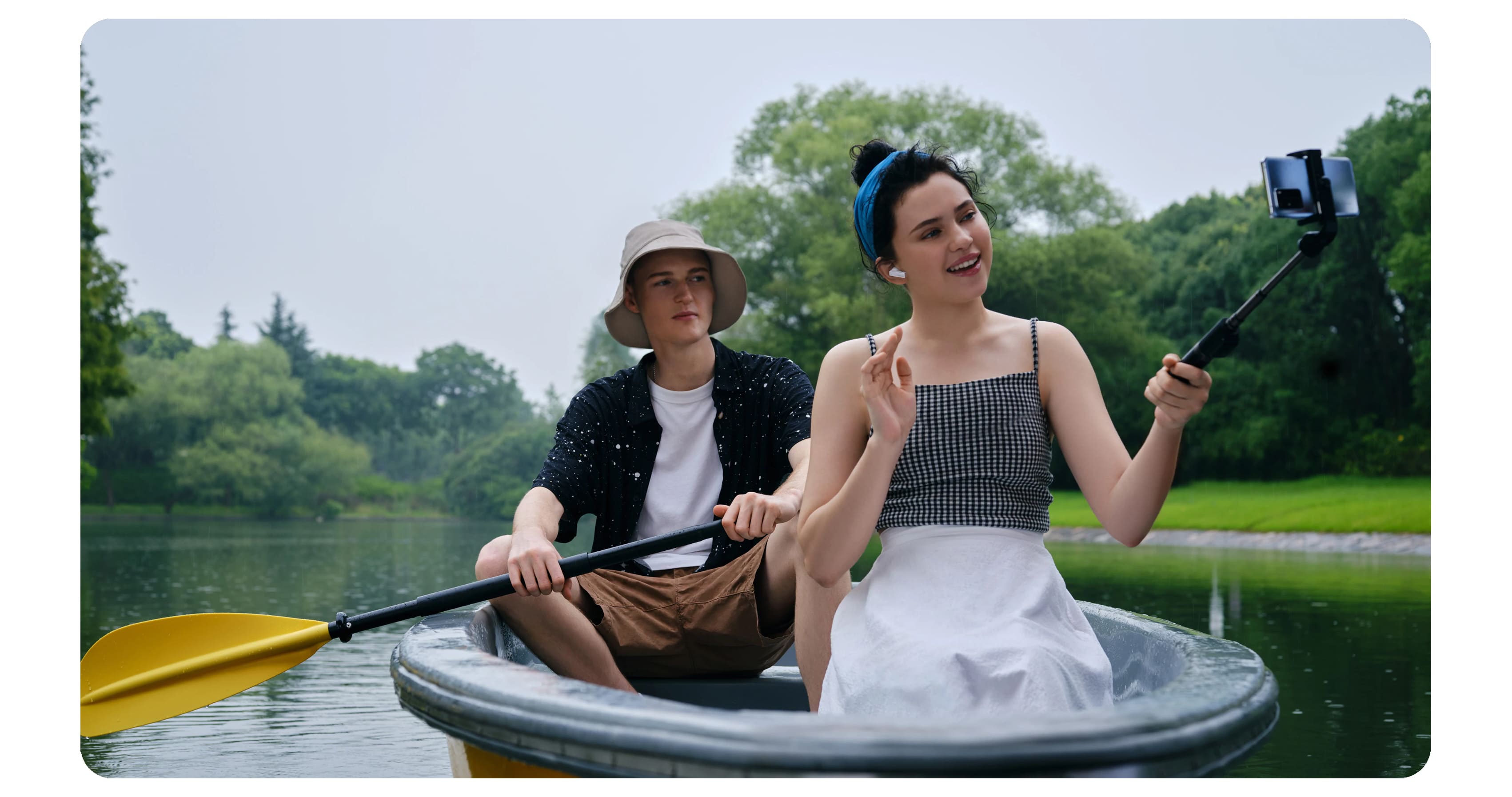 Wear it All Day
Soft silicone earplugs are available in 3 sizes. The Tip fit test helps you to choose the most suitable ones that fit in your ears.
The front and rear ear cavity conduction design balances in-ear air pressure in and out, ensuring air circulation to avoid discomfort.
The compact and lightweight body adopts a smart design that makes it almost unperceivable in your ears for greater comfort.

Smart Control at Your Fingertips
The highly sensitive sensor responds accurately to your demands. With swipe, press or pinch, you can turn up or down the volume, take calls, or change your music easily. Smart interactions, easy to control.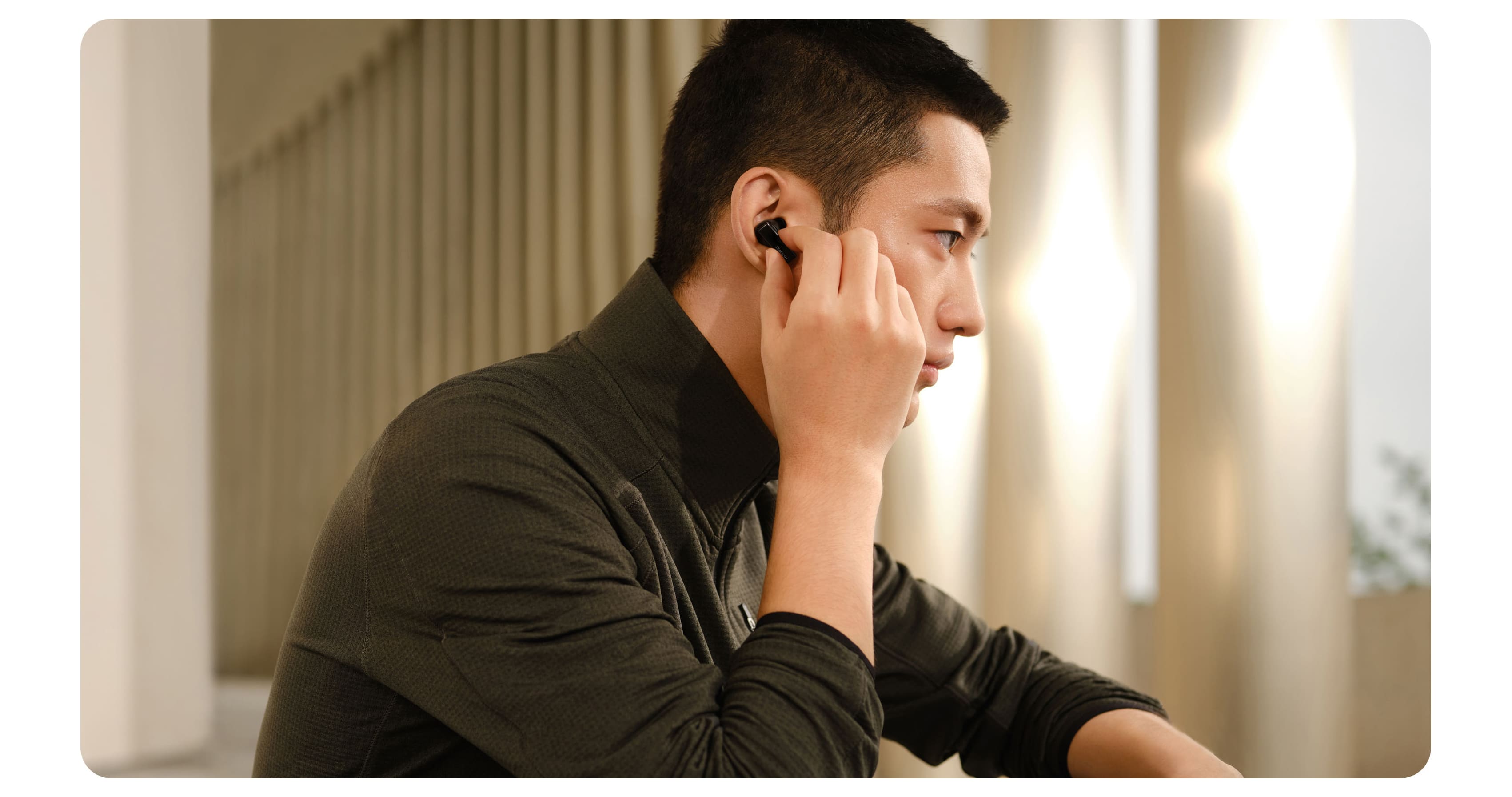 Ready to Last, Enjoy Your Best
With noise cancellation turned-off, a single charge brings you up to 8-hour listening, and up to 36 hours when coupled with the charging case. You can also use your smartphone or tablet to reverse-charge the charging case while you are on the go.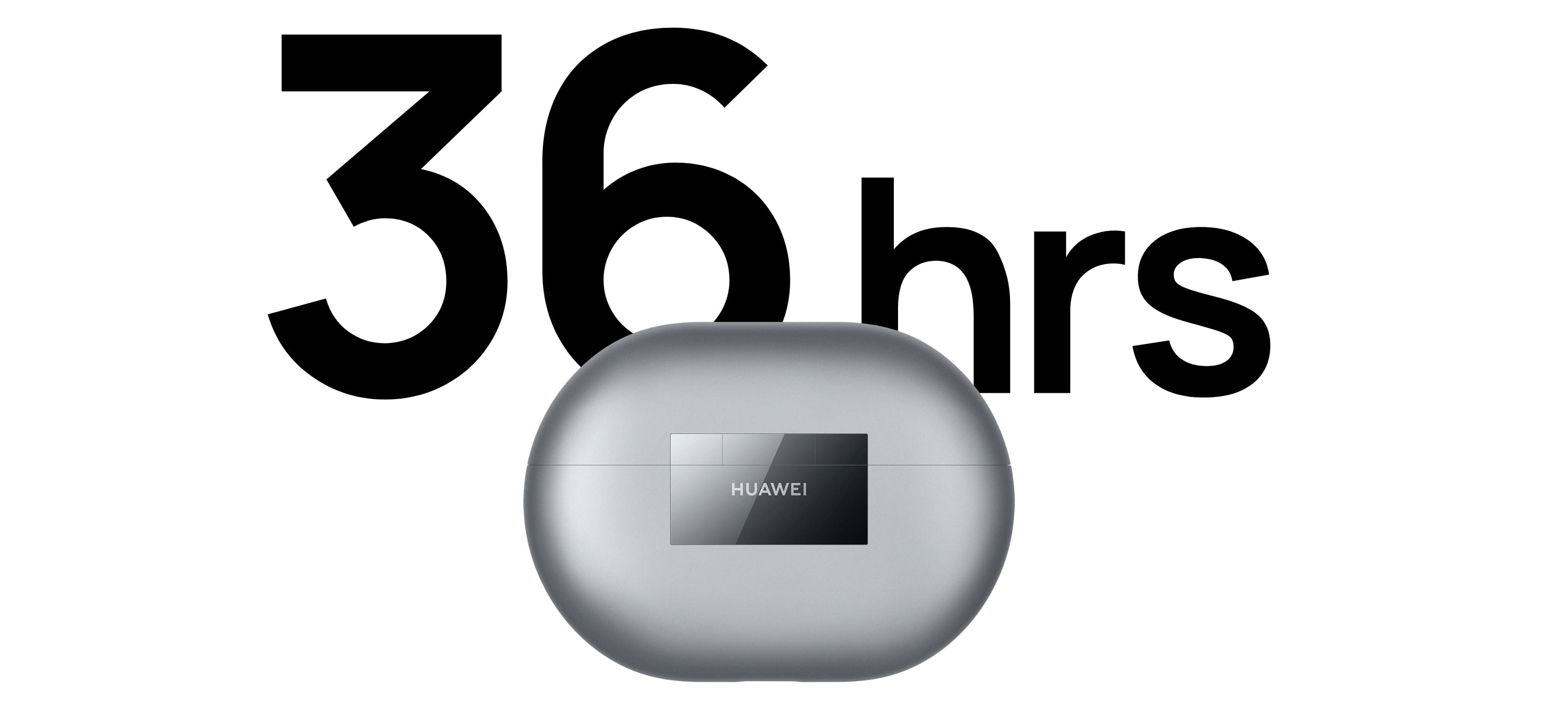 Pop, Connect, Go
Open the charging case, a pop-up should appear on your phone that prompts first-time paring or resumes connection, while showing how much battery you have left.
..Dual Device Connection, Seamless Switching
HUAWEI FreeBuds Pro can be connected with two devices simultaneously. With its dual connection supporting smartphones, tablets, PCs and other smart devices, you can watch a video on the tablet, but still open to receive any phone calls by just a pinch on either stem of the earbuds. No connection switch needed.