LG Refrigerator Inverter Linear 530 Liter Silver Stainless Color – GC-B22FTLPL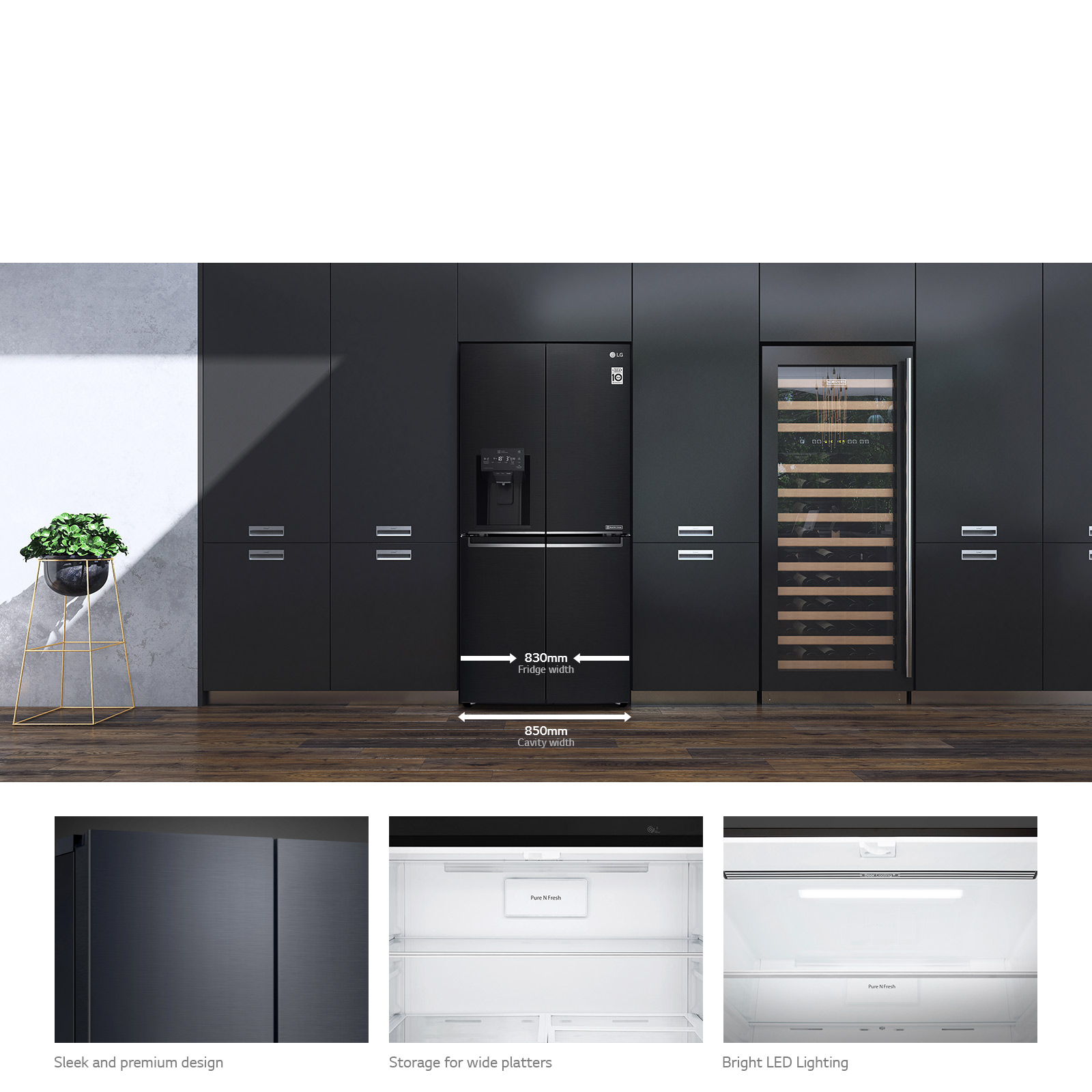 Slim Width for a Slim fit
Fit your French door fridge without renovating your fridge alcove. The new 830mm wide Slim French door fridge is designed to fit alcoves 850mm in width. Provide that seamless premium look to your kitchen with the new Slim French door fridge, while allowing 10mm on either side for venting.
Delight your senses with NatureFRESH™
Enjoy fresh food and produce. Delight your senses for a joyful eating experience.
LINEAR Cooling™
Keep Food Fresher for Longer
The LG Inverter Linear Compressor helps maintain the appearance and taste of fresh products for longer by reducing temperature fluctuations.
Door Cooling+™
Faster Cooling for Stored Door Items
The air vents located at the front of the fridge helps maintain temperature to keep your food items fresh.
Reduce Fridge Odours with Pure N Fresh
Minimise refrigerator odours with this unique air filtration system. A fan actively forces air through the carbon deodoriser and re-circulates it back across the shelves.
Inverter Linear Compressor
10 Year Warranty On Linear Compressor
With less vibration, moving parts and noise than a conventional LG compressor system, the LG Inverter Linear Compressor is quieter and more durable. LG 10 Year Parts Warranty – as the Inverter Linear Compressor is the heart of your refrigerator we back this with a 10 year parts warranty on the compressor.*
*12 Years parts and labour on the product + 3 years on sealed refrigeration system (compressor, evaporator, dryer and tubing) parts only + 5 years on compressor (part only).
Smart Storage System
Ultimate Convenience to Your Kitchen
This modern French door fridge is an entertainers delight with storage options such as the Extra Space compartment for your small or loose items, a retractable shelf for your taller items and the SpacePlus™ Ice System that is built into the fridge door so you can utilise your whole top shelf.
Retractable Shelf to Store Tall items
You can adjust your shelf by sliding it back when you are storing tall and bulky bottles or pots.
SpacePlus™ Ice System
The Slim Indoor Icemaker creates space
Our innovative ice maker system is built in the fridge door to give you wide open shelf space whilst still allowing for storage on the door.