Dive into a 360° Sound experience
Authentic 360° sound all around
The XBOOM 360 XO3 is a stunning piece of audio engineering that will change the way you experience sound. Wherever you place the speaker, the synergy of LG's omnidirectional 360° sound technology and the device's aesthetic design delivers a natural and consistently high-quality audiovisual experience.
Experience LG's patented 360º sound technology
Conventional speakers with single or multiple drivers project sound into a limited degree of space. Sound beyond those parameters is subject to distortion, making audio sounds only accurate from a specific sweet spot.
With LG's patented* technology, an optimal reflector structure allows sound to disperse evenly and equally in every direction. Therefore XBOOM 360 XO3 brings you the best recreation of the original audio wherever you may be; with low distortion across the tone, clarity, human voice and even sound spatial.
*Patent pending : PCT/KR2020/012965, PCT/KR2021/009440,2021-0093216
**Omnidirectional sound by speaker with multiple drivers
***Directivity pattern horizontal test was conducted by LG internally (in laboratory condition)
Perfect sound from premium 3-way speakers.
Balanced, Powerful, Authentic. LG XBOOM 360 XO3's premium 3-way Sound system disperses music in a balanced and clear sound—more accurate treble, clearer mid, rich and deeper bass.
The Clarity Boosting Structure consists of premium materials; silk dome, glass fiber and neodymium magnets, enhancing sound clarity and accuracy. Dual Passive Radiator reduces irregular vibration to reduce audio distortion. And Dynamic Bass Optimizer enhances bass level separately when sound is turned down. Enjoy the original vibrant sound of your favorite music.
*Patent pending: 10-2022-0072998 (2022-06-15).
Light up your vibe with emotive 360° lighting
Meet our lighting expert
"Lighting design recreates the vibe of the space."
The personal speaker and the lighting have a common; it fills the space. As the music carries the ambient sound like wind and voice, and becoming stereophonic, the lighting also mixed up with the color and reflection, and boost up the vibe and gives another story to the space. Lighting combined with emotion and narrative recreates a space. For instance, when we see the sparkling ripple or candle flame swaying from the wind, we are in awe of the beauty of nature, beyond the original purpose of light. As this moment, it brings up the sense to another level and helps expand our experience.
Light up your every moment with 9 Lighting Presets
Set the vibe and elevate your every moments through three modes of mood with nine lighting presets
Ambient mode
Music comforts the soul and light comforts the heart. Sit back and unwind in the tranquil glow of steady, stable lighting.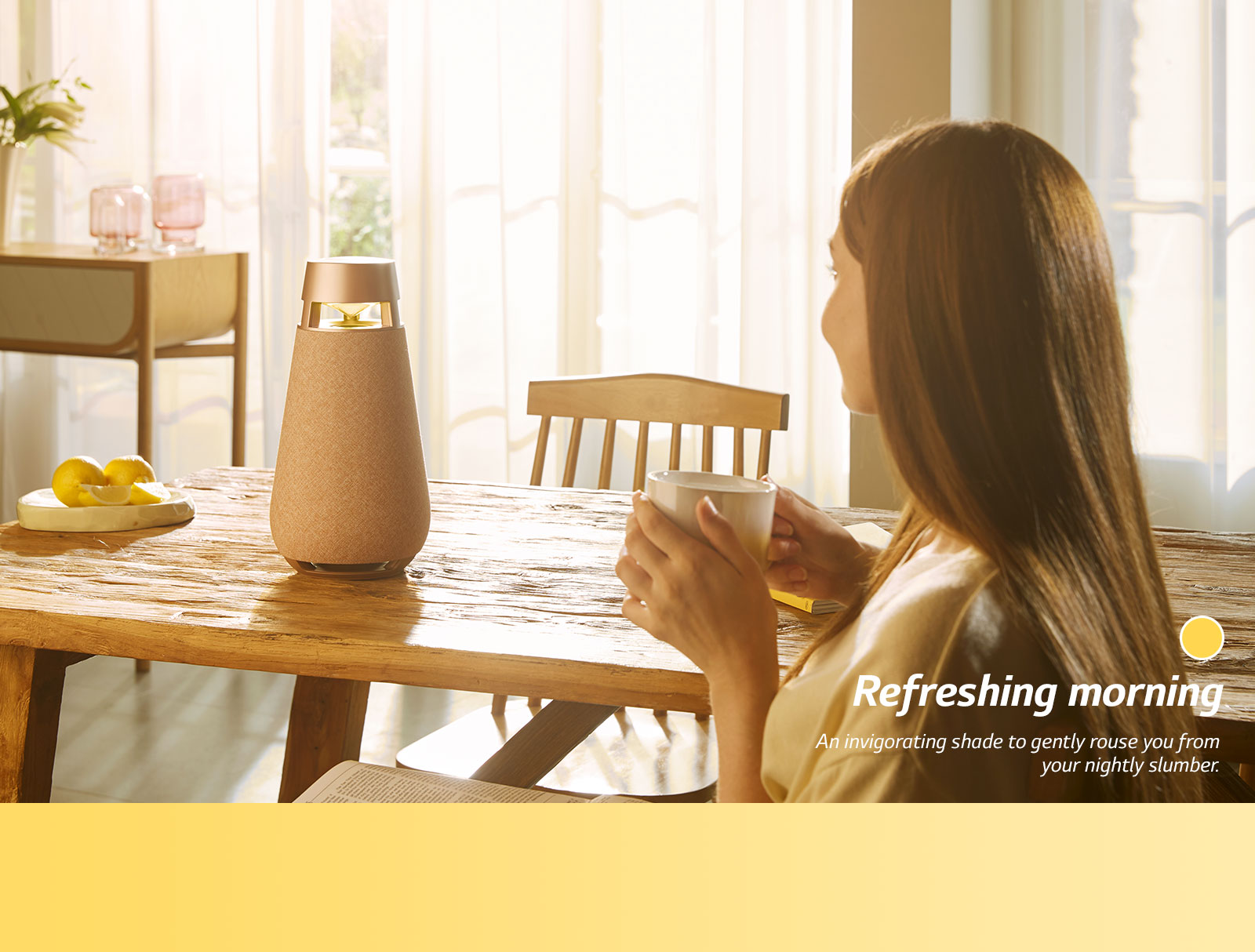 Nature mode
The best way to boost your mood is with the energy provided by nature. Breathe new life into your surroundings with the gradating glow of refreshing colors that alternate at the rate of natural breathing.
Party mode
The stage doesn't make a party, the atmosphere does.
Turn on the light to turn up the vibes and get your groove on with dynamic tricolored lighting.
Customizable Lighting through the XBOOM app
Use the XBOOM app to discover your favorite 360° lighting.
Choose from 16.8 million colors to enhance your immersion and
elevate your experience every time you listen to music.
*UX/UI may subject to change.
Elevate your space with an aesthetic 360° design
The XBOOM 360 XO3's modern vase design enhances its atmospheric lighting and completes its luxurious look, allowing it to harmonize with the mood of any space you place it in. Encased in a smooth premium melange fabric, it looks and fits right at home with the rest of your home interior mood.
*Colours of product may have a different launch schedule. Available colours may vary by country.
Water drop-shape glass
The water drop shape of the glass throws light aesthetically in every direction.
Detachable fabric strap
Use the strap for easy mobility. It seamlessly blends with the rest of the design.
The music must go on
Because your music should never stop playing before you do.
In every mood and moment, keep music your constant companion without any interruptions.
*IP54 rating is the combination of IP5X and IPX4. IP5X means dust resistant. Products are protected against a limited ingress of dust with the normal operation, but not fully dust tight.
*IPX4 means protection assured against water splashing from any angle. Not advised for heacy rain, beach or pool use.
Enjoy 360° Sound Anywhere, Anytime with Water & Dust Resistant
Bring it to your backyard or take it to your dinner table—enjoy stunning omnidirectional sound at home wherever and whenever you want.
An IP54 water and dust resistant rating means humidity and dust can't stop you from upgrading the atmosphere everywhere you go.
*Actual battery life varies depending on network connectivity and lighting usage.
*Based on LGE internal quality testing, the speaker's battery lasts for upto 24hrs respectively with 50% volume, EQ and LED are turned off.
Ultimate playing time : Up to 24hrs battery
The built-in high-capacity battery can play music for up to 24 hours on just a 5-hour charge.
*Speakers must ne the same model (ex. XO3 with XO3, XG7 with XG7).
*Only available from 2020 on OLED, QNED, NanoCell and UHD models.
Make TV sound more immersive with Bluetooth Surround
Connect two LG Xboom 360 XO3 with compatible 2020 or later versions of LG TV and use them to create a surround sound experience. It's simple to set up and gives you immersive audio with everything you watch.
Made with recycled fabric
UL has validated the LG XBOOM 360 XO3 as an ECV (Environmental Claim Validation) product because it is partly built of recycled plastic — We're taking a more eco-minded approach to portable Bluetooth speaker production.
Eco-friendly pulp packaging
The LG XBOOM 360 XO3 has been certified by SGS as an Eco Product because its internal packaging
has been switched from EPS foam (Styrofoam) and plastic bags to recycled and molded paper pulp.
*Prices, promotions and availability may vary by store and online. Prices subject to change without notice.
*Quantities are limited. Check with your local retailers for final price and availability.
*Available colors and features may vary by retailer, country or carrier.
*Actual colour and dimension may differ from the screen image.
*Features and specifications are subject to change without prior notice.