Our Twin Cooling System® inside fans each chamber independently. Freezer air stays dry, fridge air stays humid so foods are kept in their peak condition. It's the kind of technology you'd find in professional refrigerators, but it's built into every Samsung – where what's inside counts. Smart Thinking, Simple Living.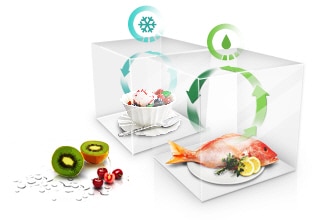 Freshness you can keep with the TWIN Cooling system™
THE patented technology of the TWIN Cooling System uses two independent evaporators driven by a single compressor to supply the optimum level of cooling air separately to the refrigeration and freezer compartments to keep food as fresh as the day you bought them for longer. So enjoy food the way you were meant to.
Accomplish the
SAMSUNG accomplishes the impossible with its new French Door refrigerator. Unthinkable in refrigeration, this unique refrigerator not only boasts a large food storage capacity in a smaller external frame, but also uses the patented TWIN Cooling system to keep even the most sensitive foods fresher for longer. Now enjoy all the luxurious benefits of a French Door refrigerator in a mere 33" of space with the sophisticated beauty of a Samsung French Door refrigerator.

Just Easier EZ-open Handle
OPENING the freezer just got easier with Samsung's new EZ-Open Handle. Simply lift and pull the handle to open without any extra force. Now, you can open the freezer while continuing to balance the groceries in your arms and not put out your back if you wanted to.