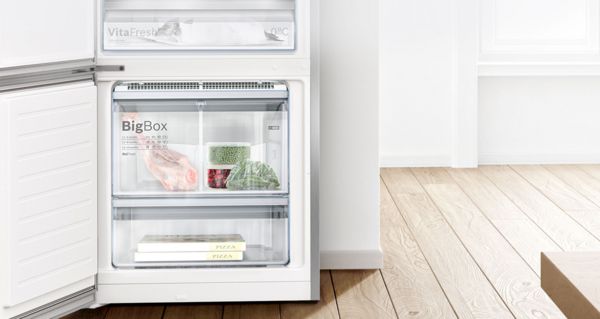 Protects frozen food from defrosting.
Adding new food to the freezer raises the internal temperature, which can result in defrosting and a loss of flavor. The SuperFreezing function ensures that new food is frozen quickly and thereby prevents the other content inside the freezer from defrosting. Appliances with an automatic freezing function return to normal operation once the required temperature is reached, in order not to waste energy. As a result, frozen food keeps its flavor, even when new food is being added.
Close the door on warm air.
Opening the fridge allows warm air to enter, which can spoil the food inside. Activating the SuperCool function rapidly drops the temperature of the fridge to insulate the food inside. It also makes sure that the new purchases will be cooled more quickly. The temperature is lowered by pushing a button (36 °F at the lowest). To prevent unnecessary power consumption, the function automatically switches off after approximately six hours. Supercool keeps your old and new food fresh through clever anticipation.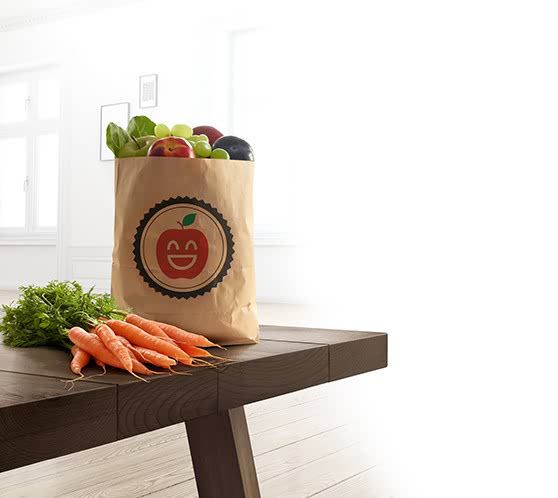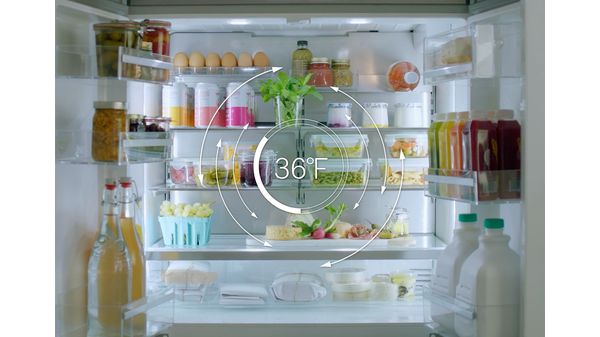 MultiAirFlow™ evenly circulates cool, fresh air to maintain consistent temperatures throughout the entire fridge cavity, from the door bins to back corners.
With NoFrost, never defrost your fridge again.
Unlike conventional fridges, the air humidity in our fridges with NoFrost is permanently collected in a central chiller unit. So your fridge automatically defrosts on a frequent basis. The resulting condensation is simply channeled outside out of the fridge, where it then evaporates. NoFrost keeps your fridge free of ice. And removes the need to manually defrost. So you can focus on more important things.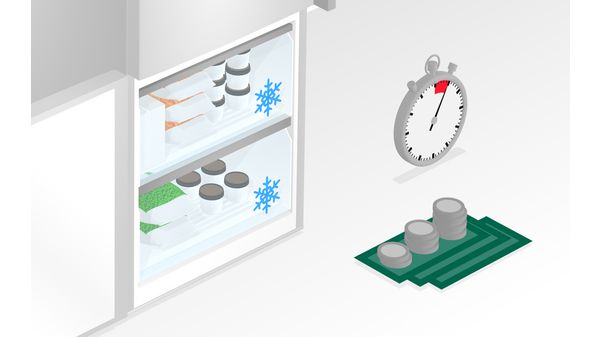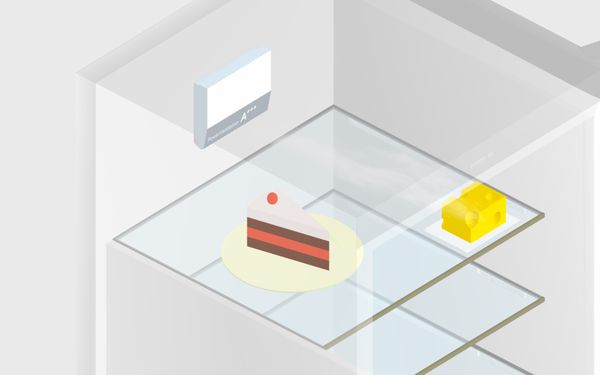 Keep your fridge smelling fresh.
Refrigerators are meant to keep your food fresh, yet sometimes they don't smell the part. The Airfresh Filter with antiBacteria actively neutralizes odors inside the refrigerator and filters out bacteria. It's built into the fan system and makes sure that flavors don't mingle, so that the food retains its natural taste. The Filter ensures constant freshness for the lifetime of the appliance.
LED light: keeps the contents of your fridge in the spotlight.
LED lights bring a completely new lighting concept to fridges, guaranteeing even, glare-free interior illumination. LED lights use less electricity than conventional fridge lights and last an (appliance) lifetime.