*Washing Machines have Five Years Warranty, Direct Drive Motor has ten years Warranty, Dryers has five years Warranty
**Product Shelf Life time is 7 years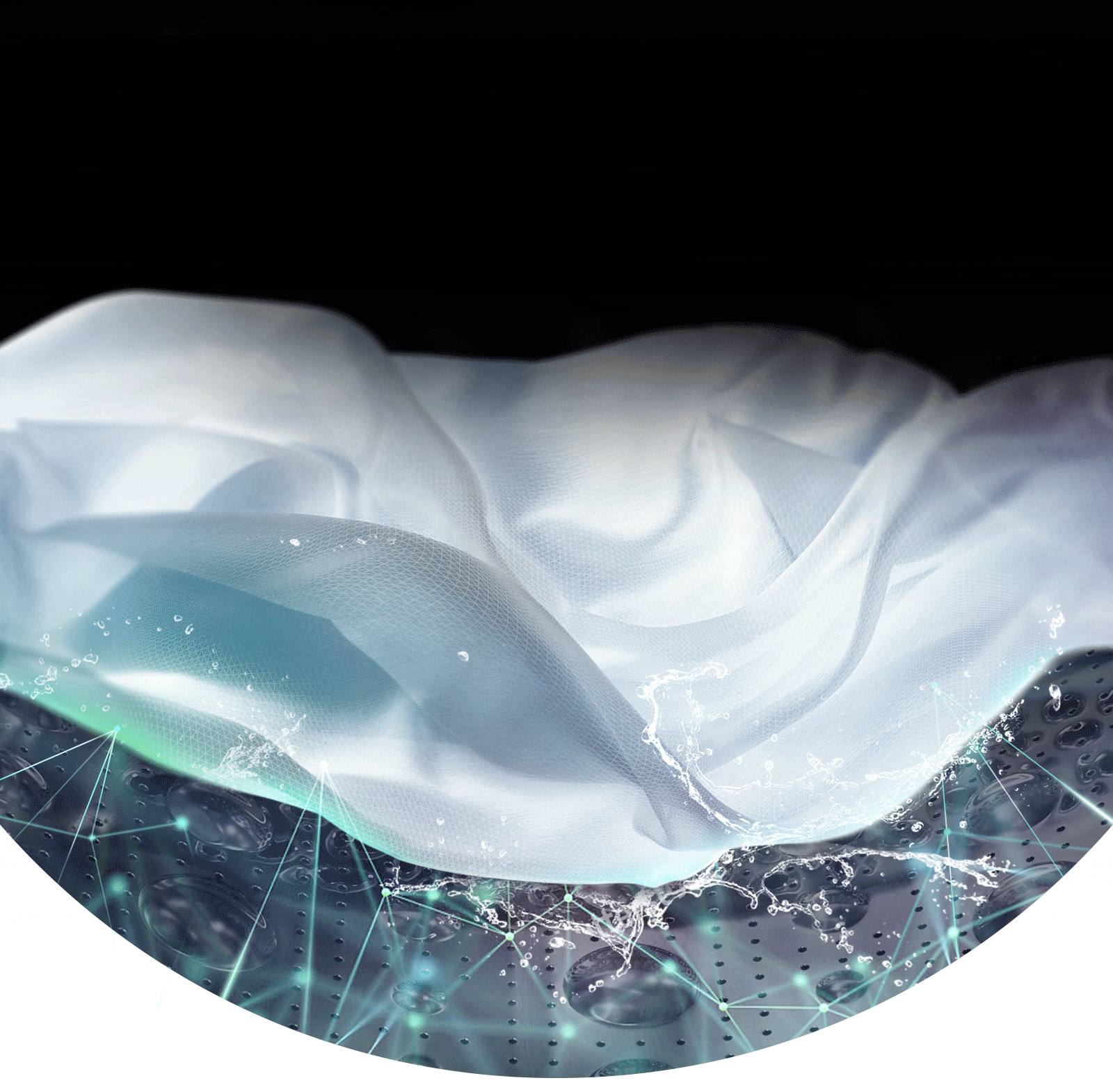 Intelligent Care with 14.5% More
Fabric Protection
AI Inverter Direct Drive™ maximizes cleansing performance and extends the life of your garments.
*Tested by Intertek on March 2019. Cotton cycle with 2kg of underwear compared to LG Conventional Cotton cycle(F4V9RWP2W vs. FC1450S2W). The results may be different depending on the clothes and environment.
*AI DD is available in 3 cycles.(Cotton, Mixed Fabric, Easy Care)
What is AI DD™?
The AI DD™ detects not only the weight, but also senses softness of fabric, and it chooses the optimal motions for the fabric by itself.
Get It All Done in Less Time
Now you can do more laundry per load with
LG's space-optimized washer drum.
*Comparing with those of LG conventional front loader with 600mm width products.
Steam
Less Wrinkles, More Hygienic
LG Steam technology eliminates 99.9% of allergens, such as dust mites that can cause allergy or respiratory issues with 30% less wrinkles.
*Allergy Care cycle certified by BAF (British Allergy Foundation) reduces 99.9% house dust mite allergen.
*Tested by Intertek on December 2018, based on AATCC standard. Cotton cycle with 'Wrinkle Care' option (3 mixed shirts) compared to Cotton cycle without option. The results may be different depending on the clothes and environment.
*Wrinkle Care is available as an option in 6 cycles.
30% Less Wrinkles
The wrinkles are formed during dehydration disappear through the steam during tumble motion.
99.9% Allergen Removal
Allergens reduced up to 99.9% by Steam.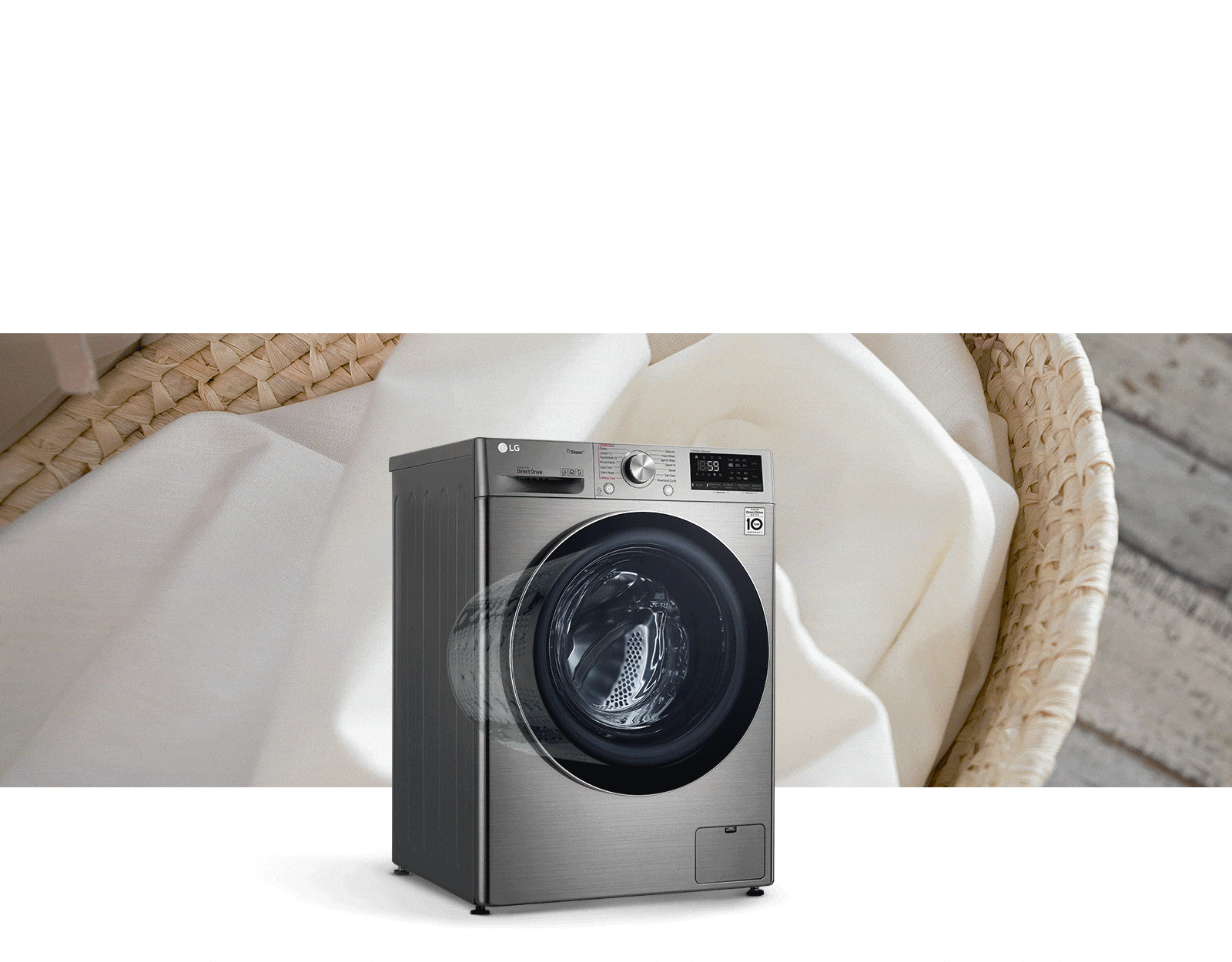 Bigger Capacity
Bigger Capacity in the Same Space
Get bigger drum capacity in same size!
Durability
More Durable and Hygienic
Boosted external durable and elegant tempered glass door and developed hygienic and durable stainless lifter.
*Tested by Intertek on July 2013. Bactericidal effect for P.aeruginosa of stainless steel against initial amount in 12 days.
Design
More Visible and Elegant
Made a more visible display and increased the knob size with a metallic finish.
Compatibility
Available with TWINWash™ Mini
Plus a TWINWash™ Mini according to your preferences to suit your lifestyle and interior design needs. Save you time and money in your busy life.
*TWINWash™ mini may not be available in all country or in all local retailers.
ThinQ™
Smart Appliance
With ThinQ™ technology, your washer just got smarter from operating your laundry remotely to downloading additional cycle. Easily interact with it and access the latest innovations with Wi-Fi Connectivity.
*Google and Google Home are trademarks of Google LLC.
*Amazon, Alexa, Echo and all related logos and motion marks are trademarks of Amazon.com, Inc or its affiliates.
*LG SmartThinQ is now renamed as LG ThinQ.
*Smart features and voice assistant product may vary by country and model. Check with your local retailer or LG for service availability.
Design, features and specifications subject to change without notice. Screen images simulated and/or dramatized. Some features in videos may not be available on all models. Please refer to the TECHNICAL SPECIFICATIONS tab for a complete list of features by model.
Details shown on product images may vary by region, country or model.
Long lasting and high reliability
The Inverter Direct Drive Motor powering our washing machines is reliable yet quiet and
comes with a standard 10-year warranty.
*Limited warranty does not cover repairs when your product is used in other than normal and usual houshold use.
(e.g. commercial use, in offices and recreational facilities) or.
contrary to the instructions outlined in the pruduct's owner's manual.
DIMENSIONS