LG Vacuum Cleaner Bagless 2000W Blue – VC5320NNTB Features
3 Reasons To Buy
① Kompressor® 3x Dust Compression
② Long lasting Suction Power
③ Easy and Hygienic Emptying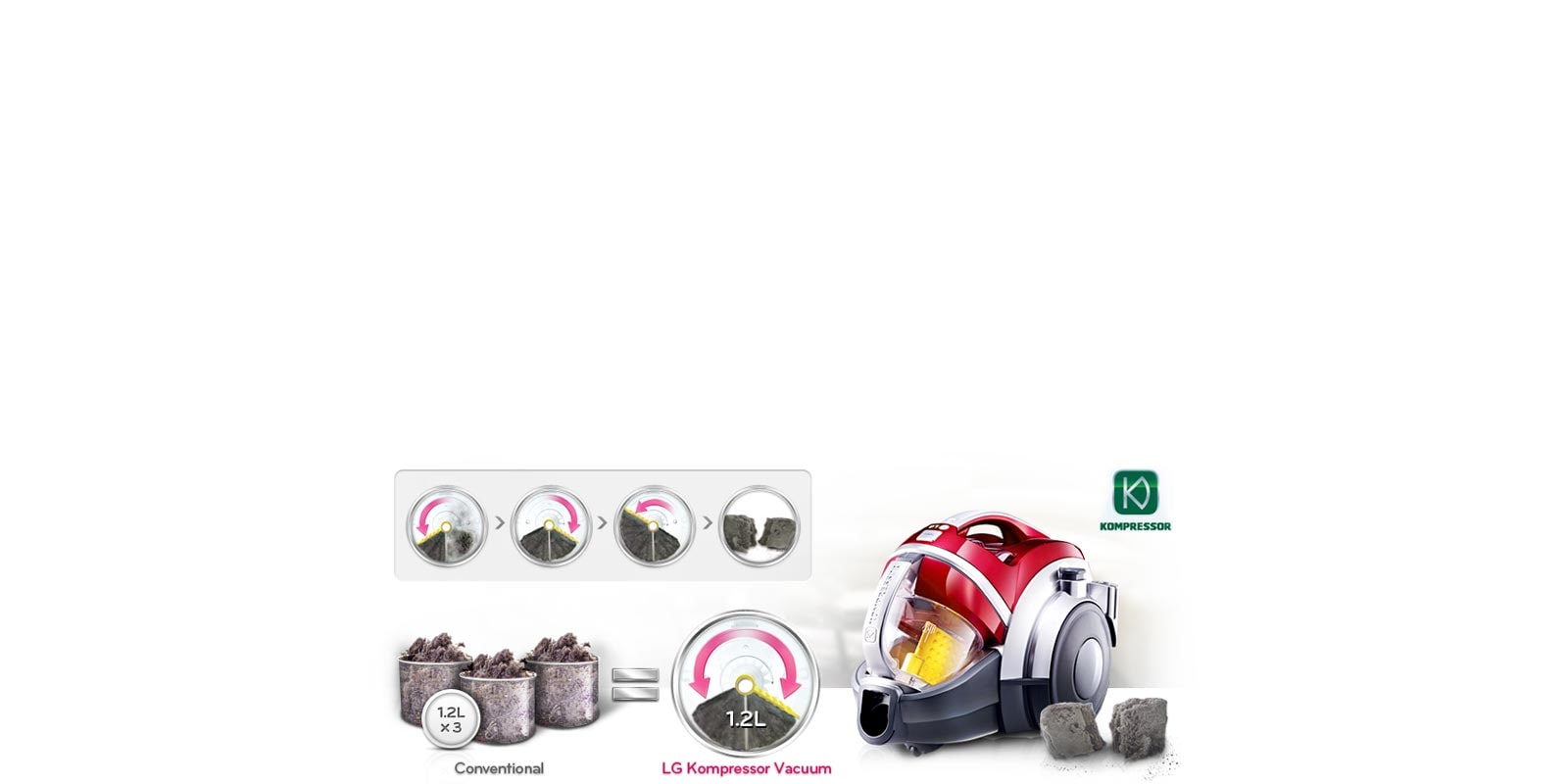 Kompressor® 3x Dust Compression (Large Capacity)
The Kompressor® system uses a wiper blade within the bagless bin to keep
it clean while compressing dust, to store up to 3 times more dust vs.
non-compressor.
It's easy-to-dispose-of solid collection of dust when you empty it, and it's covered with a 10 Year Warranty (parts only)
Long lasting Suction Power
Cyclone system efficiently separates dust from the clean air,
enabling longer powerful suction. Unlike other bagless vacuum cleaners, dust is gathered into a simple single container before the air is filtered. Because of its unique structure, LG Kompressor® maintains it performance. It also spares the messy job of cleaning the filter.
Easy and Hygienic Emptying
Dust is captured into a motorised compression canister designed to make
waste disposal more convenient and compress the waste it collects,
allowing minimal user contact with dirt and dust.
HEPA 13 filter
Four-layered carbon filter which traps harmful dust particles expels clean air.
① Deodorization Filter (Eliminating Odor)
② HEPA (Filtering micro-dust)
③ Mesh Filter (Anti-bacteria)
④ Filter Frame
Aluminum Telescopic Pipe
The pipe features an aluminum rim, which makes the pipe longer, lighter and easier to use. This aluminum Telescopic Pipe is a lot lighter than conventional pipes.
Handle Slide Control
Beginning with easy to use handleslide control.
Turbine Brush
LG Vacuum Cleaner does not only make the floor of your room clean, but it also pulls up dust and hair from your carpet effectively with rolling Turbine Brush inside of the vacuum cleaner head.